Industry News
» Vulcan Mountain Hospital was Officially Put into Use, and Sewage Treatment Design and Discharge Standards were Released!
Vulcan Mountain Hospital was Officially Put into Use, and Sewage Treatment Design and Discharge Standards were Released!
On February 3, 2020, Vulcan Mountain Hospital, the first specialized hospital in Wuhan for the centralized treatment of patients with new-type coronavirus-infected pneumonia, officially admitted patients!
Wuhan Vulcan Mountain Hospital covers an area of about 50,000 square meters, with a total construction area of 33,900 square meters and 1,000 beds. It has opened intensive care units, intensive care units, and general wards, and set infection control, inspection, special diagnosis, and radiation. Auxiliary departments such as diagnosis are mainly used to treat confirmed patients.

The Wuhan Vulcan Mountain Hospital project was designed by CITIC Architectural Design Institute, and four units including China Construction Third Bureau were responsible for the construction. Vulcan Mountain Hospital is designed and constructed in accordance with the "Construction Standards for Infectious Diseases Hospitals". The program is optimized based on Xiaotangshan samples, that is, in addition to conventional physical technology, biochemical processing technology is used to effectively eliminate various bacterial viruses.
According to the design drawings, the wastewater treatment process of Vulcan Mountain Hospital uses a pre-sterilized contact tank-septic tank-lift pump station-conditioning tank-MBBR biochemical tank-coagulation sedimentation tank-deflection disinfection tank-discharge standards; activated carbon treatment process + UV catalysis!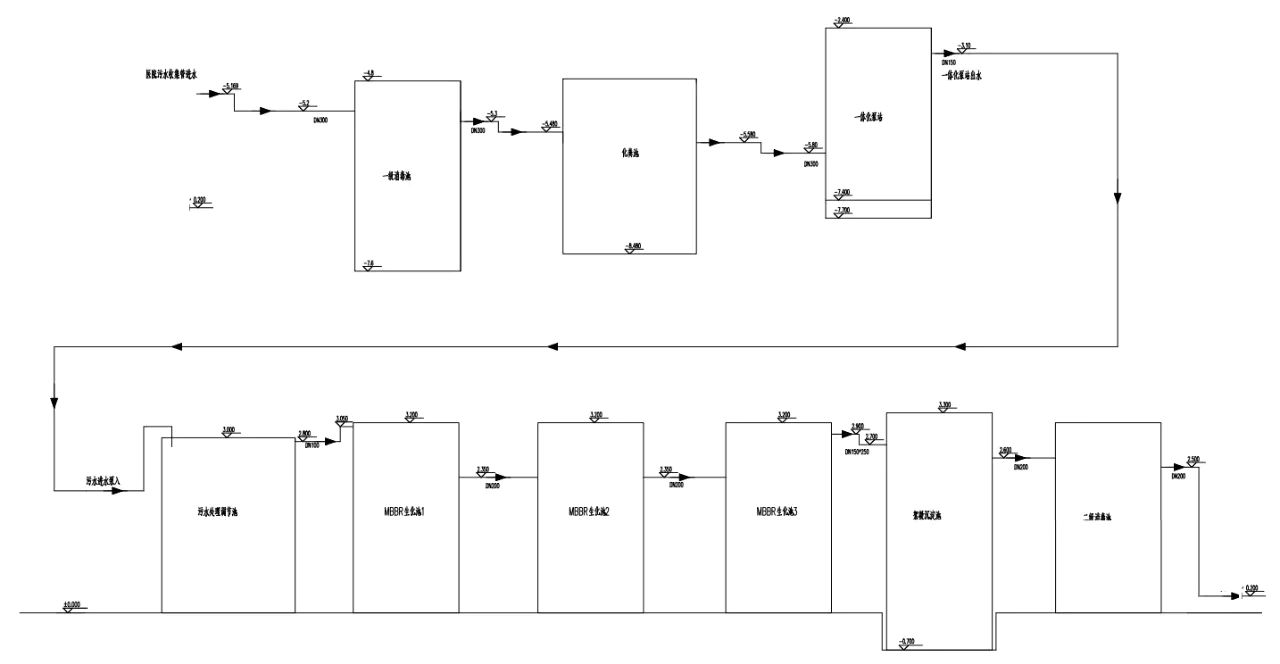 Vulcan Mountain sewage treatment flow chart
Vulcan Mountain Hospital's sewage treatment is carried out in accordance with the "standard for infectious disease hospitals". From the discharge of the hospital's wastewater to the qualified treatment, it must go through 7 strict procedures. Finally, it will be discharged into the municipal pipe network after passing the system test. The entire disinfection residence time is much higher than 1.5 hours of medical wastewater, reaching a residence time of 5 hours!
The waste water generation capacity of 1,000 beds in Vulcan Mountain Hospital is about 800 to 1,000 tons. The on-site sewage treatment station can operate at full capacity of 80 cubic meters per hour and can treat up to 2,000 tons of sewage a day. In addition, the Vulcan Mountain wastewater treatment system is equipped With two groups, if one group of equipment has a mechanical failure or needs maintenance, the other group can also treat medical wastewater independently, and the daily processing capacity of a single group can reach 1,000 tons, which can fully meet the operation of the hospital.
Attachment: Three Waste Emission Standards of Vulcan Mountain Hospital
1. Sewage discharge requirements
01. Sewage discharge from infectious and tuberculosis medical institutions implements the provisions of Table 1.
02. It is forbidden to directly discharge sewage from medical institutions to drinking water protection areas and swimming areas in GB3838 Class I, Class II and Class III waters, and GB3097 Class I or Class II waters.
03. Comprehensive medical institutions with infectious wards should separate sewage from infectious wards from non-communicable wards. The sewage and feces of the infectious ward can be combined with other sewage after being disinfected.
04. If the sewage of medical institutions disinfected with chlorine-containing disinfectants is directly discharged into surface water bodies and sea areas, dechlorination treatment shall be carried out so that the total residual chlorine is less than 0.5 mg / L.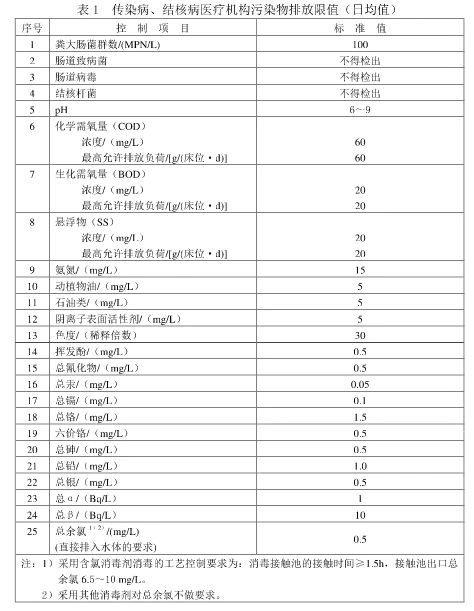 Sewage discharge standards for infectious disease hospitals
2. Exhaust emission requirements
01. The exhaust gas discharged from the sewage treatment station should be deodorized and deodorized to ensure that the pollutants in the air around the sewage treatment station meet the requirements of Table 3.
02. Medical institutions for infectious diseases and tuberculosis should disinfect the waste gas discharged from sewage treatment stations.

Exhaust emission standards for infectious disease hospitals
3. Sludge control and disposal
Palisade slag, septic tanks and sludge from sewage treatment stations are hazardous wastes and should be treated and disposed of as hazardous wastes.

Hospital sludge discharge standards