Industry News
» HCM City seeks to better protect ĐồngNai River Basin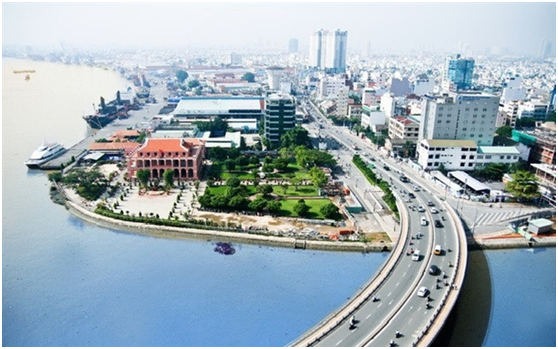 A section of the SàiGòn River in HCM City.


HCM CITY -- The HCM City People's Committee has petitioned the Government to draft a master plan for the protection of the ĐồngNai River Basin.
It hopes to develop its own plan to ensure safety for its water resources, protect the environment and combat with climate change based on the central plan.
The city has built three wastewater treatment plants including the first stage of the BìnhHưng Plant with a capacity of 141,000 cubic metres per day, the 30,000cu.m BìnhHưng Hoà and the 131,000cu.m ThamLương–BếnCát Waste Treatment Plant, which is still under trial.
According to figures released by the city authorities, around 370,000cu.m of wastewater are collected and treated daily, or a mere 21.2 of the total volume discharged.
The ThamLương–BếnCát Plant is scheduled to go on stream in 2020, while the completion of the second stage will raise the capacity of BìnhHưng to 469,000cu.m.
As of August the city had 4,335 factories and plants (including 1,300 facilities in 17 industrial parks, export processing zones and hi-tech parks), and 4,200 of them have their own industrial wastewater treatment systems that meet standards set by the Ministry of Natural Resources and Environment.
Most of the 121 hospitals and healthcare facilities in the city have their own treatment systems, which collect and treat 99 per cent of the wastewater discharged by them.
The HCM City Blood Transfusion Haematology Hospital and BìnhTân Hospital are currently renovating their wastewater treatment facilities.
As part of efforts to protect the environment in the ĐồngNai River Basin, the city is making efforts to reduce the rate of burial of solid wastes to 50 per cent next year and to 20 per cent by 2025, and adopting new technologies.
The city wants construction to begin at the 500 tonne per day plant of the Tasco Joint-stock company and to speed up construction works of the 1,000 tonne per day solid waste treatment plant of the Trisun Green Energy Corporation.
The HCM City Department of Natural Resources and Environment plans to co-operate with neighbouring provinces like Long An, ĐồngNai, TiềnGiang, BìnhDương, BàRịa – Vũng Tàu, TâyNinh, and ĐồngNai to implement projects signed with them for the protection of the ĐồngNai River.
It is also working with district authorities to patrol and stop illegal sand mining in the ĐồngNai River, especially in border areas and in the coastal district of CầnGiờ.—VNS.